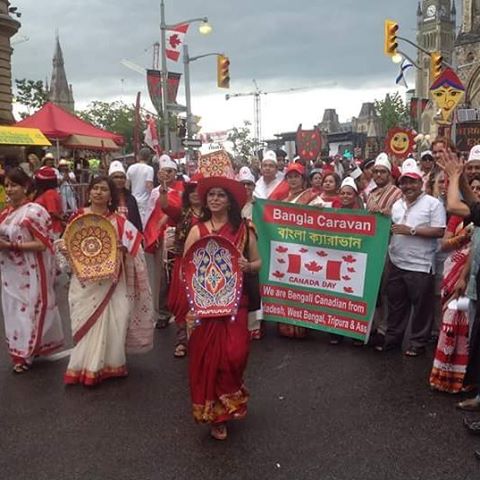 Every year Canadians from coast to coast celebrate the Canada Day. We as Bangali Canadians are proud of being the part of this celebration. This year also we tried to bring more joy and color to Canada Day displaying to our fellow Canadians our rich Bangali cultural heritage in a collective way that would enrich the glorifying values of Canadian multi-cultural society.
Bangla Caravan 2016 is an initiative to share rich Bangali culture and heritage with the members of Canadian multicultural mosaic. This is a unique opportunity, where anyone from Bangali culture can demonstrate and share her or his cultural performances to the greater Canadian community to show and celebrate the diverse treasure that we all bring with us.
Everybody joined us with any Bangali outfit (punjabi, paijama, lungi, sari of various kind dressed in various styles, dhuti, gamsa, baul dress, manipuri dress, indigenous people's dress, faith based dress prevalent in Bangali society, wedding dress, or any dress of your choice from Bangali culture), musical instruments, dance costumes, handicrafts, pictures, banners, festoons, garlands etc etc to celebrate a wonderful, colorful and an enjoyable Canada Day with your family and friends!
Where: Rideau Centre 50 Rideau Street, Ottawa, Ontario K1N 9J7 (In front of the old SHOPPERS DRUG MART) from 3pm Ottawa City Hall
When: Friday, July 1, 2016 at 2:00 pm
started our Bangla Caravan at 2:30 pm from Rideau Centre and will display on the street and in the downtown parliament area until 5:00pm.